Introduction
CHY Mall is a virtual shopping mall in China that combines traditional e-commerce, trading (buying and selling online ), network marketing and cryptocurrency. Its main objective right now is to beat the giants of this sector in terms of users.
And to do this, it makes available to the public quality products based on quantum energy at fairly competitive prices.
Since June 15, 2020, you will now find items that you are used to buying on e-commerce platforms on the CHY Mall site, namely clothing, shoes, bags, jewelry, beauty accessories, household appliances. and many others.
Similarly, it offers anyone who has made a purchase from it the possibility of benefiting from up to 5 bonus levels, independently of each other.
And to top it off, it innovates by providing its customers with a Trading space (automatic purchase and sale every 10 days) allowing them to generate passive income for life.
CHY Mall is a real source of income for all those who are looking for opportunities in the digital economy.
With CHY MALL, Earn money from your smartphone wherever you are.
May your smartphone pay for your internet packages and EVERYTHING you need!
No need to have high degrees
No need to sponsor to start earning money
No need to have e-commerce knowledge
No need to work full time
No need to have a computer
Understand the concept of CHY MALL?
CHY MALL is a Chinese platform that combines both traditional e-commerce and mlm trading, a first in the online e-commerce industry. With the ambition to challenge giants of this industry like Amazon, EBay, Alibaba, Jumia etc. who brew billions of dollars annually, you can use this platform to quickly achieve financial independence through its one-of-a-kind business model.
CHY MALL already has three representations in Africa, specifically in Ghana, Uganda, Cameroon and soon in Ivory Coast and other African countries.
CHY MALL has a range of more than 5,000 products: Clothing, Watches, Telephones, Televisions, Toys, Computers, Refrigerators, Audio & WIFI, Photos and cameras, Peripherals and accessories, Printers and scanners, Game consoles, Sporting goods , Beauty products, Food supplements, etc…
Do you have a specific project in mind?
Whatever project you have in mind in terms of creating a website or mobile application in Cameroon, LocalHost guides you and helps you clarify your ideas. Worried about your budget? No worries, LocalHost studies your project for free and offers you an estimate within 24 hours.
---
---
Vous avez un projet spécifique en tête?
Quelque soit le projet que vous avez en tête en matière de création de site internet ou d'application mobile au Cameroun, LocalHost vous oriente et vous aide à clarifier vos idées. Vous êtes inquiets au sujet de votre budget? Pas de soucis, LocalHost étudie votre projet gratuitement et vous propose un devis estimatif en 24H
---
---
How to make money with CHY MALL?
WITHOUT SPONSORING (E-COMMERCE) EARN MONEY EVERY 10 DAYS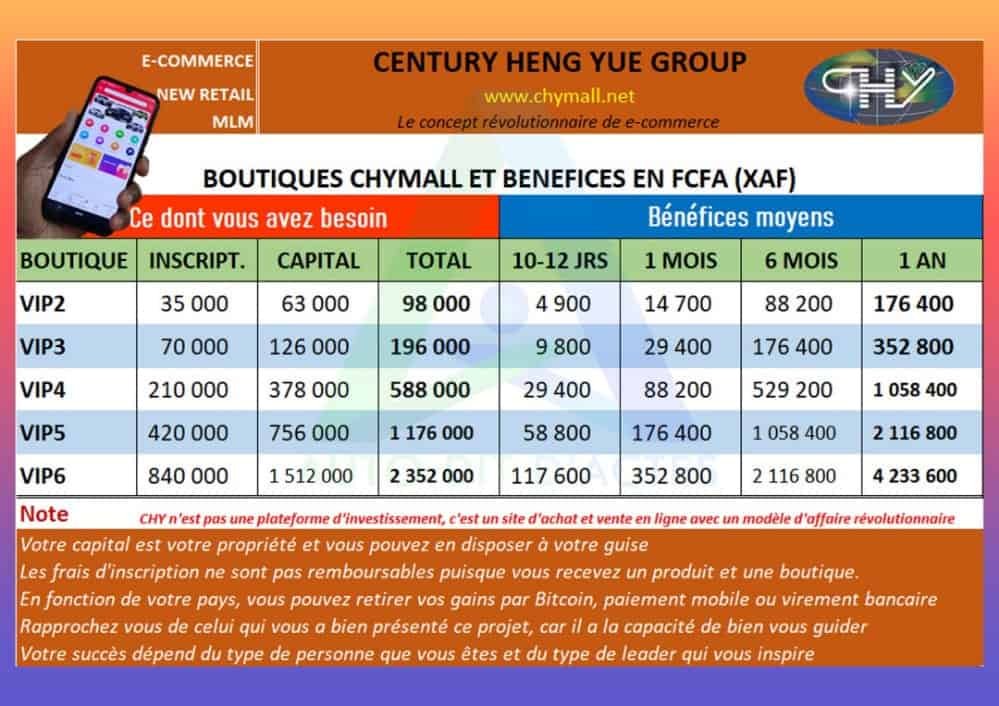 Simply purchase any of the packs from the table below to start earning every 10 days.
EARN MONEY WITH SPONSORSHIP
MARKETING PLAN
CHY MALL has a very generous binary compensation plan that pays you handsomely.
With CHY MALL, there are 8 ways to earn money:
Sell ​​the products purchased from CHY MALL with 10% allowed profit.
Earn 20% direct referral bonus on the pack purchased by each member you personally refer.
Earn 12% profit on total purchases made on your weak leg in binary every day.
Take advantage of the promotion to launch your professional website
We are specialists in the Creation of Professional Websites with several years of experience serving companies and individuals around the world. Consult our achievements by CLICKING HERE
Some Recent Achievements of LocalHost Digital: Best Web and Digital Agency in Cameroon
---
Unconditionally earn 50% of purchases made on your first generation every day.
Note: If the total amount of purchases made on your first generation is 5 times greater than your investment pack, the company pays you 75% of all purchases.
If the total sum of purchases made on your first generation is 10 times greater than your investment pack, the company pays you 100% of all purchases.
Earn an additional 20% on purchases made on your second generation under certain conditions.
With CHY MALL, you get a steady stream of income, even without having to refer a single person. It's a revolution at CHY MALL!
EXAMPLE:
Buy 1 phone at CHY MALL for $100. CHY MALL then offers you the possibility of buying 2 other phones at wholesale price ($40 each). After picking up the phone, the company gives you the option to pick up the other 2 purchased or ask the company to help you sell them. The company then takes 5 to 10 days to sell these 2 phones for you at a price of $100 each, for a total of $200. On balance, you spent $180 and received $200, so your profit is $20 plus 1 phone. You can do this 3 times a month, earning 3 phones and $60. So, after registering in CHY MALL, you can invest $180 and earn $60 plus 3 phones every month with no limit. Trading can be done with all CHY MALL items.
This very advantageous trading system does not exist anywhere else!
BENEFITS ON THE STORE CHAIN
At the end of each month, the company adds up the turnovers of your legs (excluding the strongest leg and the weakest leg) and pays you 3% of the total.
BENEFITS ON TRADITIONAL ELECTRONIC COMMERCE
With CHY MALL, every effort pays off. Introduce businesses that want to sell their products/services on CHY MALL's traditional e-commerce platform and earn 1% on their total revenue every month.
How much can you earn with CHY MALL?
With CHY MALL, you can earn up to more than 300,000F CFA per month.
How do you withdraw your winnings at CHY MALL?
Every 10 days, you can withdraw your winnings by Bitcoin, or by Tmoney or Flooz at a CHY MALL service center.
LocalHost Digital : Your Web & Digital Agency in Africa
The N°1 Digital Transformation Agency LocalHost Digital is at your disposal for all your projects. Our Digital Agency specializes in the Development and Integration of Digital Solutions for Companies (ERP, CRM, Commercial Management, Dedicated Solutions, etc.), the Creation of Professional Websites , the Development of Web and Mobile Applications , the Development of Business applications, Digital Marketing , as well as in Graphic Design and Practical Training in the various Digital professions . We are a Digital Transformation Company which stands out for its wide range of services and creative strategies, but above all for the quality of our achievements. We support and educate our customers so that they get the most out of the solutions we build with them.
We publish and integrate software solutions designed to simplify and optimize the management of specific businesses and activities:
Business Management Software
Stock Management Software / Warehouses
School Management Software
Hospital Management Software
Hotel and Hostel Management Software
Law Firm Management Software
Sewing Salon Management Software
Call Center Management Software
Freight Business Management Software
Whatsapp Bulk Messaging Software
Restaurant Management Software
Fleet Management Software
ERP/CRM/HR/Project Management Software
Medical Analysis Laboratories Management Software
Durrell NGOUANET DONGMO | Promoter of LocalHost Digital
Durrell NGOUANET is a young Engineer graduated from the National Polytechnic School of Yaoundé. Passionate about Digital Transformation and Specialist in Digital Solutions, He is attracted by the challenge and the resolution of business problems | An entrepreneur focused on the future, he is the Founder of the company LocalHost Group SARL and of the Training Center for Digital Professions LocalHost Academy | He is also the Founder of the Professional Social Network TheStarterbook , the Durrell Market e-commerce platform and many other digital initiatives.
Take advantage of the promotion to launch your professional website
We are specialists in the Creation of Professional Websites with several years of experience serving companies and individuals around the world. Consult our achievements by CLICKING HERE
Some Recent Achievements of LocalHost Digital: Best Web and Digital Agency in Cameroon