commercial management of your business, here is our Top 5 open source commercial management software!
First of all, let's present our point of sale management software OPTISALES
You do not have time to consult manuals of 200 pages to be able to edit an invoice? Are you overwhelmed by the 50 Excel sheets that manage your business activity? Do you need a simple, fast, efficient and secure tool to help you perform all the classic business management functions? Looking for the best Business Management Software for your business? Optisales , Point of Sale Commercial Management Cloud Software, was developed for you by LocalHost Digital
Optisales Cloud Software Overview
Optisales is a single software that centralizes all of your management. Whether you manage a point of sale or on the contrary a large chain of stores, Optisales allows you to centralize all your information in a single database, accessible in whole or in part by the branches and the various related users.
Business management
Optimize and facilitate the administrative management of your business as much as possible: quotes, purchase orders, tickets, invoices, etc. Accelerate data processing within your company and give yourself time for more rewarding tasks.
Customer relationship management
Easily keep your customer files up to date and personalize them according to your segmentation criteria. Ensure and strengthen the follow-up of your customers and commercial reminders (automated sending of emails, SMS, gift vouchers, etc.) for greater loyalty.
Accounting Management and E-commerce Integration
Keep your accounts daily and totally automated thanks to Optisales . Seamlessly integrate your e-commerce site into your business management and manage it via the same interface! Directly link the data of your points of sale to those of your online store for real-time updates and perfect synchronization of your stock level and price changes.
Optisales is designed for your business
Supermarkets
Pharmacies
Bookstores
Restaurants
Bakeries
Shops of all types
Warehouses
All types of business activities
A Customizable Solution
Do you manage one or more points of sale? A chain of stores? Regardless of the nature of your business, the volume of items managed or the number of associated points of sale, Optisales offers a set of simple and fully customizable solutions to speed up the sales process at checkouts, increase customer satisfaction and optimize the management of your stock and your back office as much as possible.
For us, the software should adapt to the way you work, not the other way around. For this reason, Optisales presents a highly and easily configurable solution. What is not already done as standard, can easily and above all quickly be done via a personalized configuration, according to your specificities. Everything that can be automated, becomes so. You recover a maximum of time to devote to your customers
Complete Management
Daily commercial management, Management of the point of sale network, offers, purchase orders, dispatch notes, invoices, credit notes
Management of cash registers and articles: Barcode reader, prices, payment methods, promotions, discounts, movements, opening and closing of cash registers, automatic invoicing of counter sales, etc.
Inventory and replenishment management
Link to point-of-sale equipment: Barcode readers, cash drawers, PDAs, price terminals, touch screens and bank terminals with immediate printing of the ticket or invoice, etc.
Customer management and loyalty
Customer files, loyalty cards, issue of purchase vouchers, vouchers, gift vouchers, targeted marketing campaigns, etc.
Sales force management
Sales and sales performance measurement, commission management, information sharing, opportunity and quote management
Edition of personalized reports
Sales statistics and history, list of articles, etc. (edition in VAT or VAT mode).
After-sales service management
Management of returns, exchanges, follow-up of repair requests, etc.
Key Benefits
Multi-stores: branches, franchisees, corners, allies, multi-brands,
Multilingual: French and English
Cloud Solution: Your software is accessible anywhere and from any device, plus you don't have to worry about storage and computing hardware. The Cloud takes care of it!
Multicurrency
Point-of-sale multi-terminals
Multi-vendors
Multiple payment methods
Multi-taxes
Multi-devices: ticket printers, card readers, etc.
Multi-Stores
Single database and centralization or not of customer and supplier records (However, you can define different management rules for each Point of Sale independently without hassle)
Checking the stock status of a store
Management of the replenishment of each point of sale (orders, transfers, receptions, etc.)
Maintaining the correct level of stocks in each of the two
Inventory transfers from one point of sale to another
Synchronization and updates of prices, margins, discounts…
Ease of document exchange between partners
Edition of reports on global or individual results
Centralization of supplier catalogs and their updates
Joint management of balances, discounts, special actions
Loyalty cards valid in all stores
Sales forces
Management of authorizations by seller
Management of Commercial Agents and their Commissions
Identification of the seller for all transactions made in the store
Monitoring of the seller's activity and history of the actions carried out
Remote control
Remote and real-time supervision of one or more store(s) via your favorite mobile devices. The representative therefore remains in possession, during his travels, of all customer information (contact details, special prices, discounts, etc.), but also of the item sheets, prices or even the state of stocks. It is also possible for him to encode quotes and customer order forms and to check, at any time and in real time, the results of sales for the day or for a defined period.
Why Open Source Business Management Software
ERP definition
Companies, whether or not they have a large number of employees, must manage a varied set of parameters including prices, sales planning, accounting and finance , inventories, etc. etc This management requires different tools, which sometimes are not all compatible, and cause shifts in the internal organization of the company, but also errors, waste of time and money.
It is difficult to unify the different departments of a company and find synergy in the management of particular areas.
This is why ERPs were invented, in order to integrate (or unify), and thereby facilitate, business management.
Proprietary software and free software
Oracle, SAP and Microsoft proposed effective management models, with multiple and powerful tools, reduced to the operation of a single database. But their offers were paid and not customizable (they are indeed proprietary software). So what was happening to small and medium-sized businesses (SMBs) that couldn't afford the hefty cost of paid ERP implementations? Quite simply, they did without their services, and did not benefit from the competitive advantages that others around them were acquiring.
But this is not the only alternative.
In line with free, free and open-source software, open source ERPs have been developed , which offer free and customizable management solutions.
Commercial management in ERP
ERPs take into account all areas of a company, but not all open source management software is so complete.
Commercial management is one of the main facets of business activity and includes:
the sale
the evolution of stocks
customer and supplier information
It is sometimes said that business management helps to steer a business, because it is from these clues that a leader can make a decision.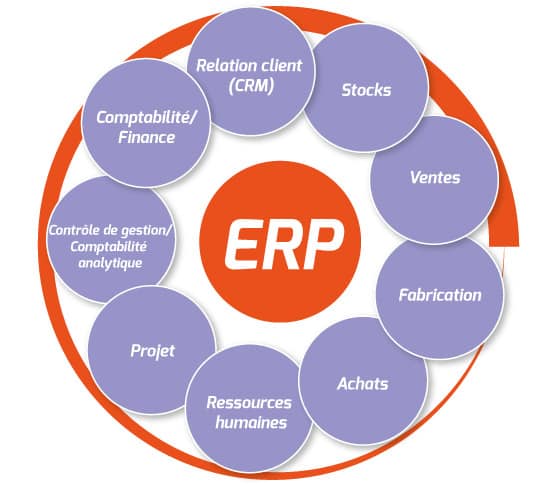 ERP, an open source business management software
What to expect from open source business management software?
We can distinguish several criteria to classify open source commercial management software:
Personalization : the software is there to offer solutions that adapt perfectly to the needs of each company (such as rental management software, for example). From there, the greatest number of features does not mean the perfect model ("perfect" for you).
The ability to evolve : the needs of a company change, its projects and its objectives also, and it is entitled to expect its management software to follow it in its evolutions. This involves adding modules or plugins.
Hosting : most open source software are applications found on the web. Just download them and install them on your server. But if you do not have any technical skills, or if you simply want us to assist you in this task, you must ensure that there is a hosting version of your application.
Documentation and customer service : tutorials, a blog to explain how your software works, but also customer service to help you out, can be strong points in your choice of an open source ERP.
With these 4 criteria, we can draw up the top 5 commercial management software (some are specialized in CRM, or the field of sales, while others are complete).
odoo
Odoo is an integrated management software package (ERP/PGI) which contains a set of complementary applications to manage areas as varied as sales and customer relations, production, human resources, accounting or finance. These modules communicate with each other, which allows synergy in management; hence a gain in overall view, in management and in efficiency.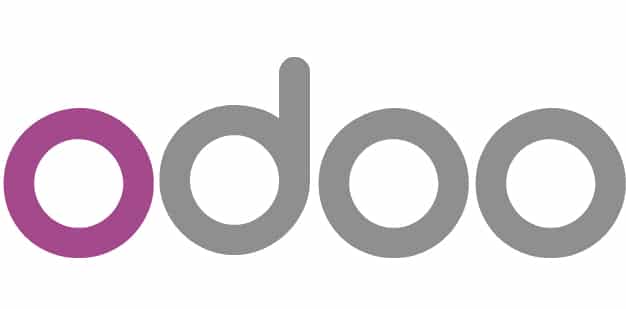 Odoo, an open source business management software
Better known under the name Open ERP, through which he made himself known, Fabien Pinckaers' software package released its version 9 in October 2015: Odoo 9. Despite his young age (the Belgian student's activity goes back in 2005), Odoo has 2 million users worldwide and has established itself as the benchmark in the market for open source business management software.
Odoo makes ERP a simplified tool, whose functions appear on a manageable and easy-to-use interface.
It gives companies, and especially SMEs, the possibility of having a very efficient, complete and free tool. On the other hand, some companies, specialized in Odoo, work in line with open source ERP, and offer paid installation, programming and assistance services, in order to implement and customize the software as well as possible. This is for example the case of the company Atout Persona.
Downloadable for free on the web, it includes since Odoo 9, 2 versions: the community and the enterprise , which is paid.
Dolibarr
Created in 2002, the open source ERP Dolibarr is mainly aimed at small and medium-sized enterprises (SMEs), self-entrepreneurs and associations. It offers management services that cover the activity of the company from A to Z and make it possible to follow invoices, contracts, inventories, offers, orders and payments.

Dolibarr is a community product, distributed under the GPL license (the free software license), without commercial support or enterprise license.
He gave himself a 3S rule to respect: Simple to develop, Simple to install, Simple to use, which can only motivate entrepreneurs.
vtiger
Entirely open source, Vtiger is centered on customer relationship management, or CRM.

This open source CRM (like the Odoo CRM) allows you to manage 2 main dimensions of a company's relationship with its customers:
upstream : when the customer is not yet a customer, but simply a prospect who shows some interest in the company's products or services. The management module then makes it possible to record all the information concerning him (name, address, telephone number, email, appointments), but also to trace the evolution of the customer's status: request for quote, order, etc.
downstream : when the company has acquired the customer (in other words, when it has sold him a product or service), the CRM makes it possible to remain attentive to him and to serve him according to his needs, in keeping the history of its requests, and setting up callback functions.
SugarCRM
Created in 2004 under the GPL license, Sugar CRM was a rapid success: 5 months after its launch, it had been downloaded 25,000 times on the web, which earned it the distinction of "Project of the month" by the site SourceForge.
This also allowed him to raise funds of 46 million dollars, provided by American venture capital companies.
By 2009, Sugar CRM had been downloaded over 6 million times, and today has 150 employees.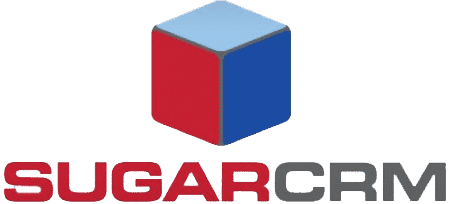 An open source business management software that was an immediate success!
The software includes several editions:
Community (downloadable and free)
professional
Company
Ultimate
The main features of Sugar CRM are: sales force automation, customer service and relationship, and marketing campaigns. It also includes tools to facilitate and organize collaborative work, as well as research and statistical tools.
Openbravo
Created for SMEs, Openbravo is an ERP based on a modular system that has a web interface, through which the user can follow all the parameters of his company: production, inventory, customer service, order tracking .

The software has 3 versions, which adapt to the needs of companies:
Community (free)
professional
Company
These versions include interesting commercial and financial modules.
Like Odoo, Openbravo has been taken over by companies that offer paid implementation and support services from its freeware.
Conclusion
These few indications give a small idea of ​​the very large market for open source commercial management software, which has become essential tools for companies wishing to improve their competitiveness.
LocalHost Digital : Your Web & Digital Agency in Africa
The N°1 Digital Transformation Agency LocalHost Digital is at your disposal for all your projects. Our Digital Agency specializes in the Development and Integration of Digital Solutions for Companies (ERP, CRM, Commercial Management, Dedicated Solutions, etc.), the Creation of Professional Websites , the Development of Web and Mobile Applications , the Development of Business applications, Digital Marketing , as well as in Graphic Design and Practical Training in the various Digital professions . We are a Digital Transformation Company which stands out for its wide range of services and creative strategies, but above all for the quality of our achievements. We support and educate our customers so that they get the most out of the solutions we build with them.
We publish and integrate software solutions designed to simplify and optimize the management of specific businesses and activities:
Business Management Software
Stock Management Software / Warehouses
School Management Software
Hospital Management Software
Hotel and Hostel Management Software
Law Firm Management Software
Sewing Salon Management Software
Call Center Management Software
Freight Business Management Software
Whatsapp Bulk Messaging Software
Restaurant Management Software
Fleet Management Software
ERP/CRM/HR/Project Management Software
Medical Analysis Laboratories Management Software
Durrell NGOUANET DONGMO | Promoter of LocalHost Digital
Durrell NGOUANET is a young Engineer graduated from the National Polytechnic School of Yaoundé. Passionate about Digital Transformation and Specialist in Digital Solutions, He is attracted by the challenge and the resolution of business problems | An entrepreneur focused on the future, he is the Founder of the company LocalHost Group SARL and of the Training Center for Digital Professions LocalHost Academy | He is also the Founder of the Professional Social Network TheStarterbook , the Durrell Market e-commerce platform and many other digital initiatives.
Take advantage of the promotion to launch your professional website
We are specialists in the Creation of Professional Websites with several years of experience serving companies and individuals around the world. Consult our achievements by CLICKING HERE
Some Recent Achievements of LocalHost Digital: Best Web and Digital Agency in Cameroon