State of play of online payment api solutions in Cameroon and Africa
It has been two years since new companies and online businesses have sprung up in Cameroon and Africa. Riding on the meteoric rise of mobile money , they aim to federate the various mobile payment solutions in order to allow consumers to pay for their goods and services, online or in person. Their presence testifies to a strong need of the populations: while they are often unbanked and rarely have access to means of payment such as VISA and MASTERCARD ( not for a long time ), they find the lack of interoperability of operators in this area impractical. of mobile money .
These services are thus made accessible to all e-merchants thanks to the provision of payment APIs . The terminology "pay" is in vogue and we find among this explosion of similar services Vitepay in Mali or Paydunya in Senegal. Moreover, these services are both a catalyst for e-commerce , but also for physical commerce.
In all cases, the business model is simple: fees of 1 to 5% are levied on user transactions. The race for flows is on, and none of these companies openly communicate their figures. For example, one of them already generates flows of 5 million FCFA per day, or 1.8 billion per year! Its turnover is around 80 million, which already makes it a great SME after only one year of existence.
---
Profitez de la promotion pour lancer votre site web professionnel
Nous sommes des spécialistes de la Création de Sites Web Professionnels avec plusieurs années d'expérience au services d'entreprises et de particuliers de par le monde. Consultez nos réalisations en CLIQUANT ICI
Quelques Réalisations Recentes de LocalHost Digital: Meilleure Agence Web et Digitale au Cameroun
The competition is fierce, and internationalization, at least in the sub-region, is their next frontier: WeCashUp wants to launch its service in 17 countries after its departure in Cameroon, SycaPay will soon open 6 countries in West Africa and Cinetpay has just opened a subsidiary in Mali and is targeting Cameroon, Guinea and Senegal in 2017. It is clear that the UEMOA zone is more dynamic than the CEMAC zone, where Cameroon is leading the way (as a example the Congolese company PayWebPhone seems to no longer provide its online mobile payment service since early 2016…).
Cameroon's online payment aggregators
In Africa, cash still holds supremacy at the point of sale, but digital payment methods continue to grow. From mobile wallets to bank transfers. The evolution of e-commerce and the rapid growth of fintech are among the main drivers of the meteoric rise in online payments in Cameroon .
In Cameroon, almost everyone who has some fintech knowledge these days is getting into online payments . The country is experiencing an increase in the number of online payment aggregators . And it's not hard to see why.
The volume of electronic payments in Africa grew at an annual rate of 13% between 2014 and 2016, according to a McKinsey report. This figure represents an exciting opportunity for the African FinTech industry. This is an opportunity that Cameroon's online payment aggregators are exploiting to enable thousands of people to access financial services.
---
The best digital business ideas in Africa in 2020
We have specially selected and detailed for you the list of the 10 most innovative and promising online business ideas of 2020
---
The saddest thing, however, is the fact that very little is known about these online payment aggregators in Cameroon . About the amazing job they do to make online payments easier for Cameroonians.
In case you are wondering what are online payment aggregators!
Online payment aggregators are the glue that helps many parts of the digital financial services ecosystem work together. They facilitate payments between the merchant and consumers through different payment methods such as bank transfers and credit or debit cards.
Like the rest of Africa, in Cameroon most payments are made with cash or cell phones. This means that for online merchants, PayPal will not be enough – they will need something specific to the market.
Among many of these aggregators in Cameroon, a privileged few seem to be making waves, not only in the country, but also in Africa. These aggregators are not payment processors as they only provide different payment methods and facilitate online payments.
Online payment solutions by mobile money in Cameroon and Africa
Here is a list of online payment methods and solutions in Cameroon integrating mobile money as well as other solutions
Monetbil
Y-Note
Dohone
Jonalepay
Afrikpay
Orange Money Web Payment
MTN MoMo API
PayDunya
PayExpress
Touch
AByster
Detailed presentation of some online payment api solutions in Cameroon
Campay is an online payment gateway for software developers. It is a platform for commerce, not just for payments. It allows transactions to be associated with detailed orders, products, customer profiles, etc. Configure the product catalog and inventory to automatically sync between online properties and your points of sale
The platform currently supports Orange Money and MTN Mobile Money Operators
Easy to integrate on a Website or an Android Application, the platform offers a Plugin for Woocommerce , to facilitate integration on WordPress sites.
Intouch
Aggregate all means of payment
Touch Pay, the solution installed in one go on your merchant site, your mobile application or cash register to accept several means of payment: mobile money, bank card, cash, voucher.
Aggregate digital services
A single interface to distribute a large catalog of digital services: mobile money, money transfer, insurance, telephone credit, payment of bills and subscriptions, etc.
Touch was born from the desire of the InTouch Group to democratize access to financial services in Africa where the banking rate remains very low. Pan-African fintech created in 2014, we provide merchants and businesses with a unique solution that allows them to accept all means of payment and distribute a large catalog of digital services available in their country.
WeCashUp is a universal online payment platform that brings together different payment methods (cash, mobile money, wallets and bank cards) through a single universal API. It is one of the fastest growing fintech startups in Africa with footprints in 36 African countries.
The platform allows people without a card or bank account to have easy access to online shopping. WeCashUp allows e-merchants to expand their deployment area and thus acquire new markets (Africa, a market difficult to reach for e-merchants). It also enables secure transactions for consumers and merchants.
My-CoolPay is an online payment platform developed by DHI (Digital House International) offering businesses and individuals 3 main solutions.
For WordPress / Woocommerce developers, it's now official! My-Coolpay provides its customers with a WordPress Plugin for payment by Mobile Money ! No more technical hassle to integrate the API on your WordPress / Woocommerce site
To download the Plugin and integrate it into your site, JUST CLICK HERE
Merchant API: To accept payments from customers on your website or mobile app.
Jackpots: To raise funds around the world.
Electronic wallet: To manage your money, track your expenses and budgets, pay online and send money.
Merchant API
The My-CoolPay Merchant API is the easiest and most secure way to effortlessly accept payments from your customers on your websites and mobile applications. The advantages of the My-CoolPay Merchant API:
Several integrated payment methods (OM, MoMo, EU Mobile Money, VISA, Master Card, My-CoolPay, etc.)
Interoperability between all integrated payment methods
Traceability of all incoming and outgoing payments
Intuitive dashboards for better monitoring of your activity and good decision-making
A solution that definitely stands out from the crowd. MèSomb is a 100% Cameroonian online mobile payment solution, developed by the company Hachther , which is specialized in the development of IT solutions for everyday life. It is designed for People , Businesses and Merchants
For the people
Beyond a digital payment solution, MèSomb is a new way of handling money. It allows to this extent to
Easily and simply make Orange Money and MoMo money transfers without having to use USSD codes
Pay your ENEO, CDE, Canal + bills without having to travel
Make payments with ease, be it Shopping, taxi fares, payment in shops and more. No more small change problems,
For companies
With the MèSomb solution , companies can finally
Integrate mobile payments into their processes in less than 10min, even without an existing system
Make bulk payments or scheduled payments, for example for the payment of salaries, invoices and others …
For Merchants
With MèSomb , merchants now have a solution at their disposal that allows them to:
Receive mobile payments from customers in less than 30s. No more money losses linked to multiple repayment problems due to small change
To integrate mobile payments into their online services (Web or Mobile Application) thanks to a simple and powerful API, payment Wigets or Extensions / Plugins for Woocommerce and Odoo
A secure cash management solution, allowing companies to accept payments from their invoices online, and instantly credited to their bank accounts.
The platform has all the means of payment available in the CEMAC ecosystem (Mobile Money, GIMAC, Visa, MasterCard, PayPal, etc.). Whatever the means of payment used by the customer, the biller receives the credit for the payment in his account at the bank in real time.
WaZaPAY is another Cameroonian online payment aggregator based in Molyko, Buea. It is an electronic wallet and online payment gateway that allows users to securely make and receive payments through mobile phones over the Internet.
Through WaZaPAY, users can pay for goods and services online. It also allows users to pay their bills, tuition, donations and other payments over the internet or on cell phones. It supports MTN Mobile Money, Orange Money, cryptocurrencies, bank payments, Visa and MasterCard debit and credit cards.
Merchants or sellers can also receive payments for purchases made directly on their websites or mobile apps.
Opening an account with WaZaPAY for a merchant or sellers is very fast, simple and free. The system opens the door for businesses to receive payments in Africa without borders. With the WaZaPAY API integrated into your web or mobile applications, you will be able to receive payments from users of Mobile Money and other local payment methods in Africa.
Developed by the local fintech Adwa , AdwaPay provides a mobile application that brings together most of the digital payment solutions available in Cameroon : MTN Mobile Money, Orange Money, Express Union Mobile, bank cards and even PayPal. With the app, users can perform various monetary transactions. The platform even has a documentation section that guides developers on how to integrate its API into a market application.
AdwaPay guarantees the security of transactions since the startup subscribes to Digicert's annual cyber insurance package. This package offers compensation of 1.5 million dollars (825,000,000 FCFA) for each transaction. Mboa Taxi, Adwa's recent taxi app, also allows users to pay for their rides through AdwaPay.
A product of Maviance, Smobilpay allows customers to purchase services and pay their bills where they choose. Smobilpay is designed for electronic third-party bill payment that supports multiple payment options. It connects users to service providers, allowing them to pay for electricity, water and cable TV bills and additional airtime. The platform also includes the main service providers in Cameroon including ENEO, CamWater, MTN, Orange, SNS Mobility, etc.
Smobilpay offers an electronic bill distribution and payment service via an agent connected to a network of third-party collection companies (banks, microfinance, supermarkets, gas stations, etc.).
Launched by IWOMI Technologies, Softeller enables users to make instant and secure transfers from abroad directly to Mobile Money accounts in Africa. It also enables airtime top-up and bill payment and offers APIs to e-commerce sites and other third-party payment systems.
This has been a notable success since its launch in 2017. Softeller already has more than 5,000 users, who have completed more than 10,000 transactions through the platform in less than a year. A wide range of customers in Cameroon are also using its Bulk SMS solution to send single or bulk SMS to all networks around the world.
ZuumPay is a global mobile financial and payment service offering instant cashless payments, global discounts, currency swaps and cryptocurrency exchanges, money transfers, online payments and withdrawals.
A peer-to-peer financial service to facilitate cashless payments using QR codes and NFC technology, ZuumPay is a tool designed for personal use, merchants, corporations, e-commerce businesses and suppliers. of services around the world. With a presence in thirteen African countries, ZuumPay allows users to send (Zuum) and receive money through their ZuumPay accounts regardless of the amount.
Unlike mobile money services offered by mobile operators, ZuumPay works everywhere, regardless of mobile operator, bank account or country. This makes it the world's first global mobile payment solution.
E-nkap is a payment platform that allows Cameroonians to buy and sell on the Internet using all existing local payment methods. Think cash payments, MTN Mobile Money, Orange Money, Smobilpay, or credit or debit card payments. E-nkap's unique and simple API enables local businesses to transact online securely.
TranzCore is a payment system for accepting payments on websites and other internet projects. The payment system allows you to make one-off or large-scale disbursements of funds through the most popular electronic systems. The system also offers physical cards with worldwide shipping and virtual cards that you can get in minutes.
Monetbil is a method of paying for digital goods and services online using the billing service of mobile operators. Monetbil offer e-merchants a Simple , Fast and Secure mobile phone payment method . And contributes to the significant increase in their turnover.
Monetbil , this innovative Cameroonian service, offers a secure payment method and allows application developers and businesses to sell their products and services online.
Take advantage of the promotion to launch your professional website
We are specialists in Professional Web Creation , with many years of experience serving businesses and individuals around the world. See our achievements by CLICKING HERE
AByster is one of these online payment solutions, but having the particularity of using Mobile Money. For the moment, the system is only available in the African countries shown in Figure 1 below with Mobile Money services, because in other countries, particularly in East Africa, other operators are present. and have another mobile payment system: the M-Pesa3 for example. The payment solution is currently working in Cameroon and Senegal.
The ABYster solution is currently working for the telephone operators MTN and Orange.
PayExpresse offers its secure online payment platform for sellers who wish to collect payments from their customers, easily on the Internet, with or without a website. It offers three simple and secure integration options to start accepting payments from all over the world namely Web API Integration, Mobile Integration and Plugins & Extensions for frameworks like Prestashop and WordPress. they allow you to receive your payments via Paypal, Bank Card, Orange Money, Wari, Joni Joni, Poste Cash, Tigo Cash…
Online payment methods in Cameroon
There are different electronic payment methods namely:
Payment by bank card: With this method of payment, the buyer uses his classic bank card to pay. However, to make any payment, you must ensure that the e-commerce site is equipped with a security system (SSL). It is a method of encrypting personal data (name, address, bank details) which makes them invisible, unreachable and therefore cannot be recovered by malicious people. You must always ensure the presence of https: // in the navigation bar of the site where you provide your banking information.
Payment by e-card number: It is a method of payment attached to the bank card which allows you to pay without giving your bank card number. . These cards are often called "VIRTUALIS" in banking establishments.
Internet transfers: A service highly appreciated by large banks because it allows you to make salary transfers and many other financial transactions on a large or small scale.
Payment by contactless bank card: This mode allows you to pay for purchases of a relatively small amount with your card without having to insert it into the payment terminal and without entering your confidential code. It mainly saves time and saves you the hassle of small change.
Mobile payment via NFC: It is also a contactless payment system but less popular than the others because it requires having a phone equipped with NFC technology to install an application such as apple pay, google pay which makes the link between your phone account and your bank account.
Mobile payment via USSD (Mobile Money): It is the ultimate payment method that is raging at the moment is Mobile Money in Cameroon (Orange Money, MTN Mobile Money, Express Union Mobile Money), the payment market online and offline in Cameroon is owned by the two mobile phone giants in Cameroon, namely Orange Cameroon and MTN Cameroon.
Payment via cryptocurrencies (ETH, BTC, XRP, DOGE): Based on a powerful encryption algorithm called blockchain, cryptocurrencies make it possible to overcome trusted third parties (banking institutions) thus reducing costs and transfer times. 'silver. They offer the possibility to all people with an internet connection to send and receive money around the world securely and without intermediaries. Unfortunately Africa and Cameroon seem once again to miss this monetary revolution which is about to take off.
General online payment solutions for your e-commerce in Cameroon
One of the most important decisions when launching your e-commerce is the choice of means of payment in Cameroon.
You have to think about ease – security – reliability.
Here is a list of some general online payment methods to help you make a more informed choice.
PayPal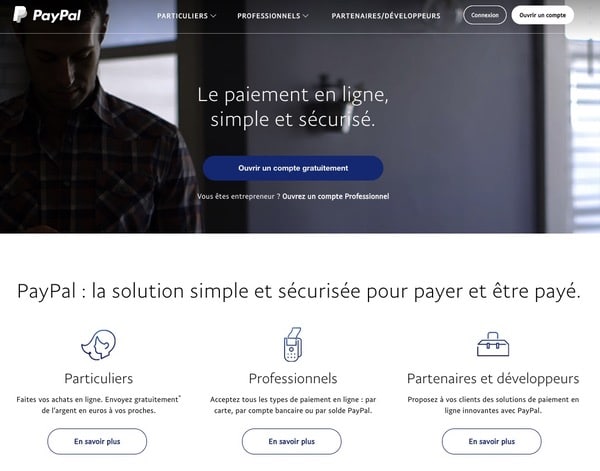 PayPal has more than 210 million users worldwide . It is one of the most popular e-commerce payment solutions .
It must be said that PayPal is attractive with its ease of use and the many options available to buyers.
A crucial point distinguishes it from its competitors: it allows you to pay online without communicating your bank details. How does it work? The buyer validates a payment order via a module made available by PayPal, the latter debits the account of the buyer and pay the purchase amount. This process is very reassuring for Internet users.
Stripe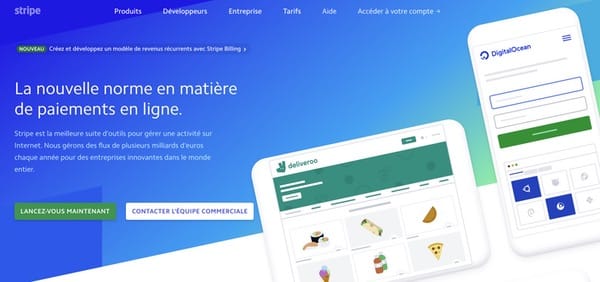 Integrate Stripe into your e-commerce site and give your customers the ability to pay simply by credit card, without going through a bank.
Buyers won't even need to register on your site to take advantage of this solution. Stripe's security is guaranteed by a dispute management platform, 3D Secure and Stripe Radar.
Unfortunately, in Cameroon, you cannot directly register on Stripe, you will need to register your business in one of the eligible countries in order to benefit from this solution.
Bank transfer
The payment by bank transfer is a safe and convenient solution. This popular means of payment allows you to buy on merchant sites, but not only. It is also used to make account-to-account transactions. The bank account from which the money is taken is debited and the one to which the money is sent is credited.
Today, payment by wire transfer is offered by all physical and online banks.
---
Quelques Réalisations Recentes de LocalHost Digital: Meilleure Agence Web et Digitale au Cameroun
LOCALHOST DIGITAL AT YOUR SERVICE
LocalHost Digital is a technology company, based in Douala, Cameroon, belonging to the LocalHost GROUP SARL , founded and managed by the Cameroonian Polytechnic Engineer Durrell NGOUANET.
LocalHost Digital provideshigh quality fully customized Web , Mobile & Graphics Design & Development services for businesses using the latest Open Source technologyaccording to customer needs. We follow both traditional "waterfall" and " agile development " methodology . The choice between these two elements is determined by the needs of our customers.
Our expertise includes:
We develop Responsive Web Applications from the ground up. Our experience in developing websites with strengths such as attractive designs, page navigation, content management system, web browser compatibility, user experience design, tool integration third party, online payment , etc. enables us to help our clients achieve their business goals.
We develop all types of Web Applications for all sizes of businesses, from Basic Websites to Complex and Dynamic Web Applications based on feature rich databases. First, we analyze the client's requirements, prepare mock-ups or prototypes showing the workflow, get them approved, modify them if necessary, get them approved by our client again, and then move on to the development phase. And finally, we deliver the product with the proper documentation after extensive testing and quality control. Carrying out a project does not mean that we cease to assume our responsibility;
We are also with our customers long after delivery . Whenever necessary, we assist them and provide them with appropriate support and maintenance. With the advent of technology or the growth of their business, we also provide improvements and fixes and additions for the site or application as per clients' requirements.
The Best ERP / CRM / CMMS, WHM, Commercial Management editor and integrator
LocalHost Digital is simply the best ERP and CRM editor and integrator in Cameroon. We are your trusted partner in Digital Transformation.
As the best ERP / CRM Editor in Cameroon , LocalHost Digital develops a range of specialized solutions for companies of all sizes, in order to support them in the integration of digital to improve their performance. These are ERP and CRM solutions, specialized solutions such as hospital management software, transit management software, school management software, hotel management software, hostels etc.
As an ERP / CRM Integrator in Cameroon , LocalHost Digital offers its expertise to companies in the study, choice, integration and monitoring of ERP / CRM solutions , whether they are Open Source solutions such as Dolibarr , Odoo, ADempiere, etc … Or Proprietary solutions such as SAP S4 / HANA, Microsoft Dynamics 365, Oracle ERP, Salesforce, Sage Business Cloud etc … We have the experience and expertise to help you succeed in your project.
---
LocalHost Digital – website design in Douala | Website development in Douala | Professional Web Designers | Professional website creation in Douala | Douala web design | web design Douala | web design in Douala | web design in Douala | Douala web designers | Creation of website restaurant Douala | Website creation Hotel Douala | Creation of website establishment Douala | Website creation eglise Douala | Douala web design company | personal web design in Douala | cheap web design in Douala Cheap web design in Douala | Douala cheaper web site design | cheap web designers in Douala | cheapest web designers in Douala | cheap website design in Douala | cheapest website designers in Douala | Douala web design | website designers Douala | Douala website | Designer website designers | Realization of the site in Douala | Douala web designers | | Website Mockups in Douala | all web designs in Douala | hire a web designer in Douala | looking for a web designer in Douala | Web design company in Douala | Douala company web design | Douala website design of the company | web builder in Douala | need a web designer in Douala | cheap website builder in Douala | e-commerce website builder in Douala | e-commerce website developers in Douala | business website builder in Douala | to find a web designer in Douala | search website designer in Douala | looking for web designers in Douala | Douala professionals web designers | Firm specializing in Web Design Services in Douala | Website Redesign in Douala | Website maintenance in Douala | Logo Design in Douala | Website creation in Douala | Creation of e-commerce site in Douala | Creation of an online sales site in Douala | Creation of Site magazine in Douala | Banner Design in Douala | Promotion site in Douala | SEO in Douala | Search Engine Optimization in Douala | Domain name registration in Douala | Accommodation in Douala | Web Design Douala | Douala web design company | Douala Web Development | professional web design company from Douala | professional logo design Douala | web hosting domain cabinet Douala | Corporate Identity Design in Douala | web design in Douala | web design Douala | Web Hosting Douala | best design quality Douala | corporate and business web design company in Douala | shopping cart in Douala | e-commerce in Douala | to outsource to Douala find freelance graphic designer | Search engine seo company submission in Douala | Webpage Conception Douala | free web design Douala | cheap website design in Douala | Douala graphic design company | Douala SEO company | Website design in Douala Douala SEO company | Website design in Douala Douala SEO company | Website design in Douala
LocalHost Digital – website design in Yaoundé | Website development in Yaoundé | Professional Web Designers | Professional website creation in Yaoundé | Yaoundé web design | web design Yaoundé | web design in Yaoundé | web design in Yaoundé | Yaoundé web designers | Yaoundé restaurant website creation | Website creation Hôtel Yaoundé | Yaoundé establishment website creation | Yaoundé Church website creation | Yaoundé web design company | personal web design in Yaoundé | cheap web design in Yaoundé | Cheap web design in Yaoundé | Yaoundé cheaper web site design | cheap web designers in Yaoundé | cheapest web designers in Yaoundé | cheap website design in Yaoundé | cheapest website designers in Yaoundé | Yaounde web design | Yaoundé website designers | Yaoundé website | Designer website designers | Site creation in Yaoundé | Yaoundé web designers | | Website Mockups in Yaoundé | all web designs in Yaoundé | to hire a web designer in Yaoundé | looking for a web designer in Yaoundé | Web design company in Yaoundé | Yaoundé web design of the company | Yaoundé website design of the company | web builder in Yaoundé | need a web designer in Yaoundé | cheap website builder in Yaoundé | e-commerce website builder in Yaoundé | e-commerce website developers in Yaoundé | business website builder in Yaoundé | to find a web designer in Yaoundé | research website designer in Yaoundé | looking for web designers in Yaoundé | Yaoundé professional web designers | Firm specializing in Web Design Services in Yaoundé | Website Redesign in Yaoundé | Website maintenance in Yaoundé | Logo Design in Yaoundé | Website creation in Yaoundé | Creation of e-commerce site in Yaoundé | Creation of online sales site in Yaoundé | Creation of Site magazine in Yaoundé | Banner Design in Yaoundé | Promotion site in Yaoundé | SEO in Yaoundé | Search Engine Optimization in Yaoundé | Domain name registration in Yaoundé | Accommodation in Yaoundé | Web Design Yaoundé | Yaoundé website design company | Web Development Yaoundé | professional web design company from Yaoundé | professional logo design Yaoundé | web hosting domain cabinet Yaoundé | Corporate Identity Design at Yaoundé | web design in Yaoundé | web design Yaoundé | Web Hosting Yaoundé | best design quality Yaoundé | corporate and business web design company in Yaoundé | basket in Yaoundé | e-commerce in Yaoundé | to outsource to Yaoundé find freelance graphic designer | Search engine seo company submission in Yaoundé | Webpage Conception Yaoundé | free web design Yaoundé | cheap website design in Yaoundé | Yaoundé graphic design company | Yaoundé SEO company | Website design in Yaoundé seo search company submission in Yaoundé | Webpage Conception Yaoundé | free web design Yaoundé | cheap website design in Yaoundé | Yaoundé graphic design company | Yaoundé SEO company | Website design in Yaoundé seo search company submission in Yaoundé | Webpage Conception Yaoundé | free web design Yaoundé | cheap website design in Yaoundé | Yaoundé graphic design company | Yaoundé SEO company | Website design in Yaoundé